"There has been sort of this push to make genomics a send-out endeavor…and we are pushing back."
Dr. Cynthia Schandl is the director of a genomics lab at the Medical University of South Carolina (MUSC). Despite the small size of her team–three senior staff, three technologists, and a few supporting staff—they support the largest academic medical center in the state.
For university hospitals, bringing sequencing in-house can reduce costs and turn-around times. But small academic labs lack the equipment and personnel to run large panels requiring multiple different workflows. That's why Dr. Schandl turned to Pillar custom panels. Now her team is working to replace three different off-the-shelf panels with a single Pillar custom workflow.
Dr. Schandl's lab began conducting next-generation sequencing (NGS) tests in 2014 using a 26-gene Illumina® TruSight® panel. When they needed to expand their target list to include genes relevant to neuropathology, the MUSC team developed a 50-gene solid tumor panel and a 49-gene myeloid panel based on the now discontinued RainDance platform.
A few months following their initial evaluation, RainDance was purchased and the technology was no longer available. The MUSC team set out to identify an alternative based on the following features:
discrete menu size
compatibility with an Illumina MiSeq® sequencer
simple workflow
fast, reliable turnaround
low DNA inputs
For small academic labs like Dr. Schandl's, less is more. They only have enough resources to evaluate just those targets that help meet their clinician's needs. Their limited staff also doesn't have time to learn complicated new workflows. "We have one technologist working on solid [tumors] basically for a day and a half, and we have a technologist working on myeloid for basically a day and a half," Dr. Schandl explained in a webinar at the 2019 AMP meeting last year. With that throughput, the lab promises an 8.5- to 10-day turnaround for results.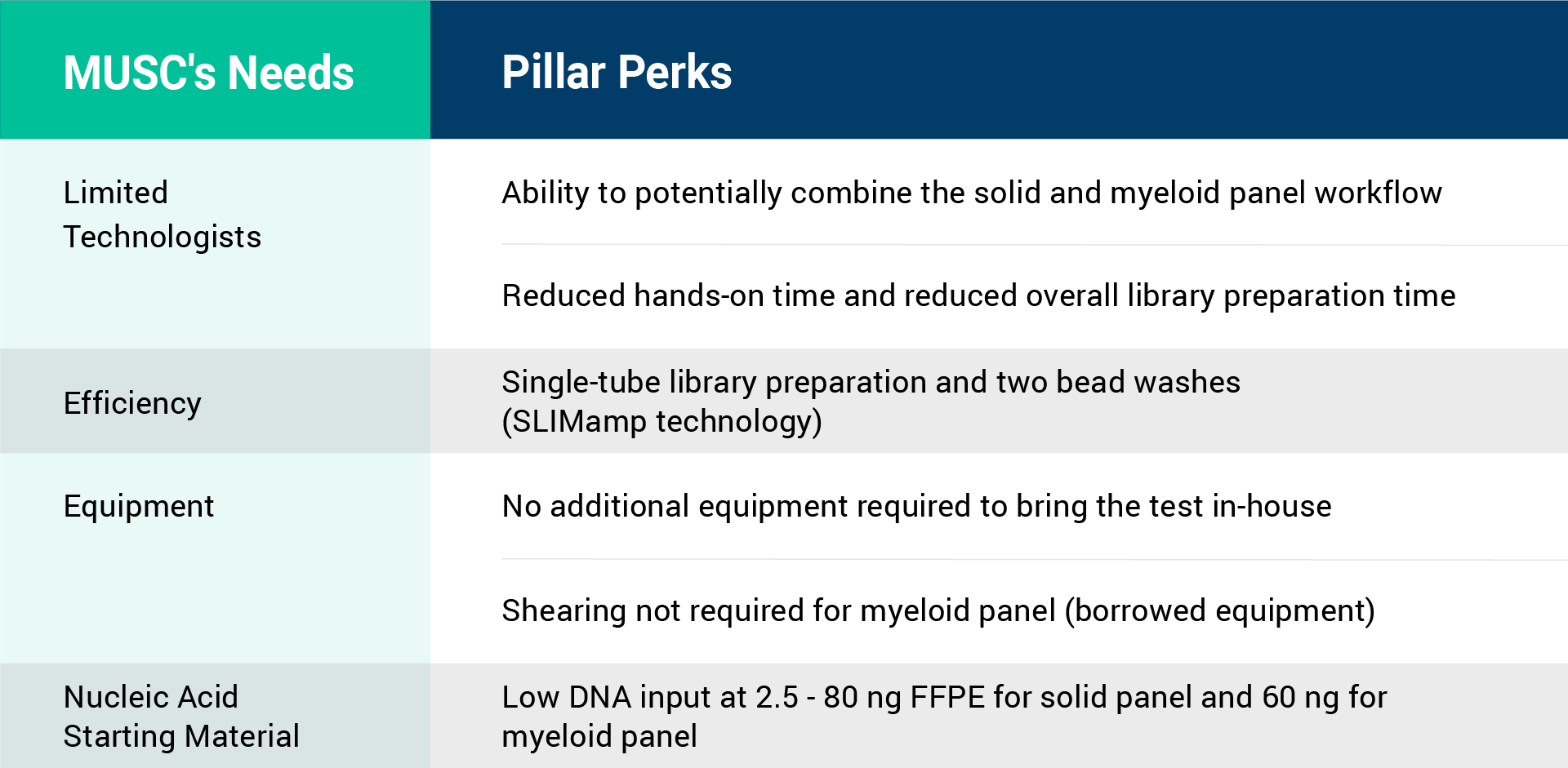 Dr. Schandl and her colleague Dr. Julie Hirschhorn were looking for something fast and simple that could lessen the load on her thin-stretched team. "One of the pain points of our RainDance assay was that it took two different tubes in order to cover overlapping primers," said Dr. Hirschhorn—more tubes meant more labor-intensive bead washes.
That's where Pillar caught their attention. With Pillar's SLIMamp® technology, you can amplify multiple overlapping amplicons in a single tube. The key is in the SLIMamp primer design, which induces stem-loop formation in unwanted amplicons, effectively removing them from the PCR pool. With SLIMamp, library prep workflows can be completed with just two bead washes in less than a day.
Fewer bead washes means far less hands-on time. "Not only are [my technologists] able to do more in one day, but they don't have to be standing there at that particular bench all day long," said Dr. Schandl. When they tested Pillar's off-the-shelf ONCO/Reveal™ Myeloid and Solid Tumor panels, the MUSC team found that they could potentially decrease their turn-around time to fewer than 7 days by enabling each technologist to complete one more run per week.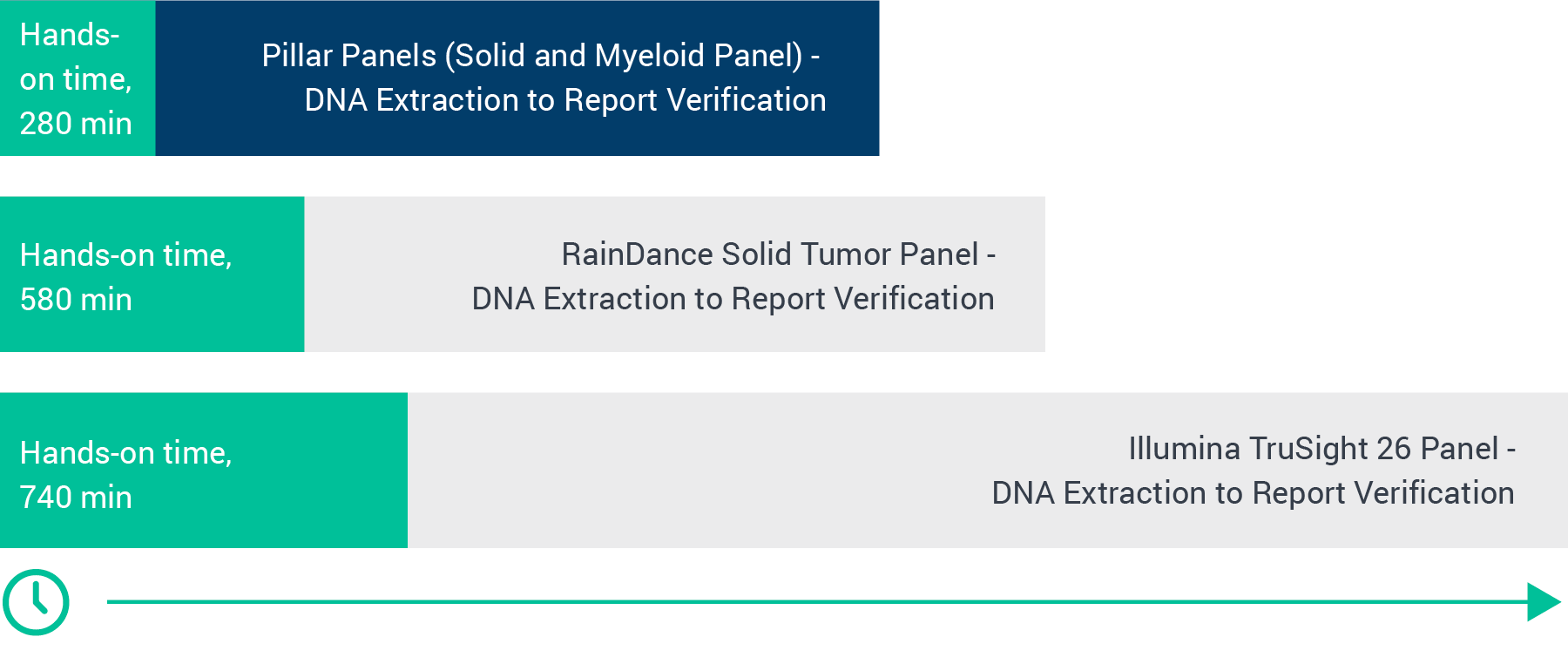 The panels are also small enough that they can fit a good number of patients into a single run. Still, the MUSC needed to cut down to 50 genes in order to get reimbursement, so they're now customizing the off-the shelf panels to fit the exact targets that are most important to their clinicians.
Concordance between the panels they had previously been using and the Pillar Solid Tumor panel was 100%, and they were able to easily achieve a 5% limit of detection. "[The Pillar panel] does appear to be extremely sensitive," said Dr. Hirschhorn. In lower limit of detection tests with Horizon controls, they detected all variants.
Perhaps most importantly, Pillar's straightforward protocols allowed them to largely combine the workflows for solid tumor prep and myeloid prep. And the multiplexing doesn't stop there. They've now got their eye on Pillar's TP53, circulating tumor DNA, BRCA1 and BRCA2, and CFTR panels.
"Once we can justify bringing some of these other assays in," added Dr. Schandl, "we can justify bringing in another technologist." That means Pillar's technology not only fit perfectly into the resource-limited lab at MUSC—enabling them to continue conducting genomic testing in-house—but the improved efficiency enabled by Pillar assays may even help the team to grow.