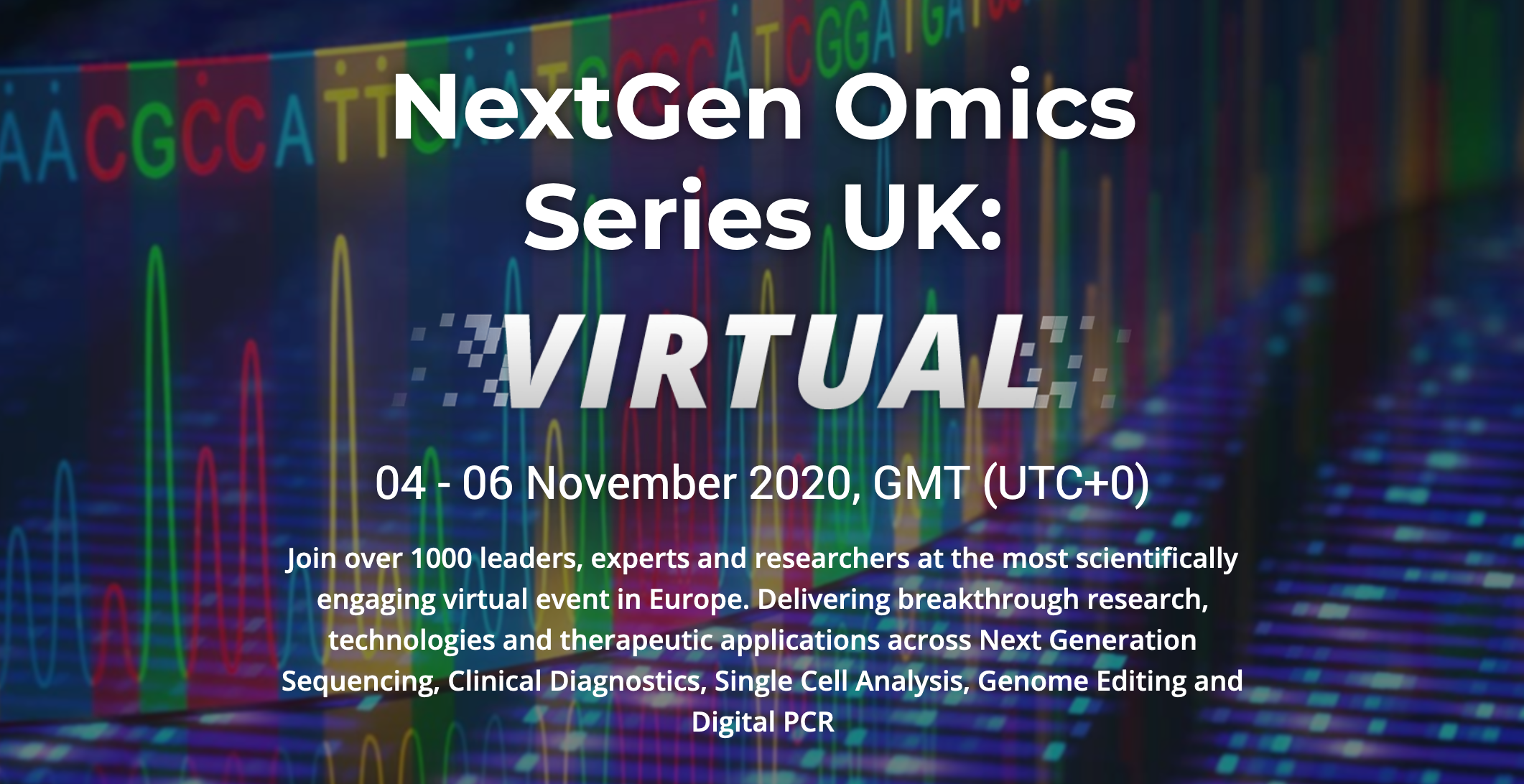 September 25, 2020 12:30-13:30 CST
NextGen Omics Series UK: Virtual
November 4-6th, 2020, GMT
Join us for this year's NextGen Omics Conference, now online
"Introduction to the IVD Pillar® ONCO/Reveal™ Dx Lung and Colon Cancer Assay"
Gang Song, Ph.D., Founder, President and CEO of Pillar Biosciences
Presentation highlights:
Pillar Biosciences' history, mission, vision and clinical focus
Overview of the CE-IVD ONCO/Reveal Dx Lung and Colon Cancer Assay
Analytical and clinical validation and verification of the ONCO/Reveal Dx Lung and Colon Cancer Assay
Participate in our panel, The Unmet Needs of NGS Bioinformatics in the Clinical Setting, and please join us afterwards for a live Q&A session. The panel will open on Nov. 5th, 2020 and will run from 2:00-2:30 PM, GMT.
Panel speakers:
Moderator: Dr. Gang Song, Chief Executive Officer and Founder of Pillar Biosciences
Panellist: Professor Doron Lance at Weizmann Institute of Science
Panellist: Honorary Professor David Curtis at University College London
Panellist: Rob Krams, Chair of Molecular Bioengineering, Director of the CVD Hub, and Head of Division at Queen Mary University of London
Dr. Gang Song is CEO, President and Founder of Pillar Biosciences. He is also a co-founder of AffyImmune Therapeutics, a cellular immunotherapy company, and a Venture Partner at ORI Capital. Dr. Song co-invented Pillar Biosciences' SLIMamp® technology. Previously, Dr. Song was a Technical Lead at Integrated Genetics, LabCorp (previously Genzyme Genetics), and Project Lead at IQuum (later acquired by Roche Molecular Diagnostics). Dr. Song completed his postdoctoral training in Dr. Timothy Springer's laboratory at Harvard Medical School and received his Ph.D. from Shanghai Medical College of Fudan University, China.
<img src="https://pillarbiosci.com/wp-content/uploads/elementor/thumbs/20201102-nextgenomics-booth-design-05-oxtwh9wsgpg494p03cjfadu35wodnbisrwiqvsawz4.png" title="20201102 nextgenomics booth design-05" alt="With Pillar Biosciences' library prep workflow, go from sample to sequencer in